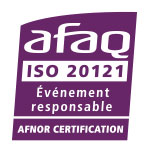 The company SPL Occitanie Events, organiser of the EnerGaïa Forum, is committed to an eco-responsible approach. It has been certified ISO 20121 by AFNOR since January 2021 for all its activities.
EnerGaïa, an eco-friendly event
As it is dedicated to renewable energy and the transition to a low-carbon world, Forum EnerGaïa has a duty to lead by example in terms of sustainable development. This is why Forum EnerGaïa is continuing to pursue the actions that it has implemented since 2017 and upholding its policy as an eco-friendly event.
A reduction in the consumption of energy, water and paper;
Limitation and control of waste generated by the organisation of the event (reduction, reuse and recycling of waste),
The promotion of green transport modes,
The introduction of locally-sourced and seasonal catering;
Initiatives to raise the awareness of partners and the public to environmental issues.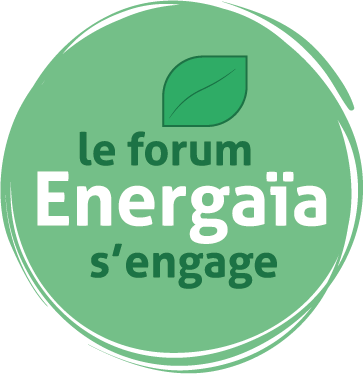 By adopting this approach, Forum EnerGaïa pursues the short-term aim of becoming an eco-friendly event.
Local and responsible catering
Forum EnerGaïa undertakes to provide a locally sourced and seasonal food offering
In the food service area, no plastic bottles will be sold.
On takeaway areas selling plastic bottles, the plastic bottle tops will be collected.
Responsible communications
All communications materials are printed on recycled and recyclable paper by a company holding Imprim'Vert certification
Badge lanyards and badge holders will be collected for re-use at the 2021 edition
Promotion of our contractors and other sustainable contributors who work alongside us in our eco-responsible approach
Promotion of green transport
Provision of a parking area for two-wheelers
Improved wayfinding to the tram.
Improved connections between railway station, airport, tram and exhibition centre
Improvement of waste sorting
Recovery of display banners by a recycler to make bags.
Use of LED light bulbs
Decoration with ornamental plants that can be replanted.
Implementation of dual flush systems in men's, women's and disabled toilets.
Use of ECOLABEL or ECOCERT* cleaners
ECOCERT Ecodetergent certification is awarded to products that comply with the three fundamental principles of the standard:
protect our planet and its resources, protect and inform the consumer, reduce waste and unnecessary waste.
Let's take action together for tomorrow's world! Your responsible behaviour will support our eco-friendly approach.